2 Month Extensive Cleansing Program (Extra Strong)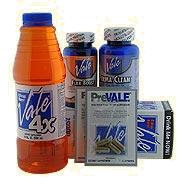 $109.99
2 Month Extensive Cleansing Program (Extra Strong) provides gradual permanent cleaning with two daily supplements and instant results with Vale's Solution 4X detoxifying beverage.
If you have chosen extra strong 2 Month Extensive Cleansing Program, then you receive the course for everlasting cleansing, during which you will take 2 additives a day and immediate effect if you decide to acquire Vale's Solution 4X as well in addition to the course. It was created for the needs of people with big body mass or for the serious drug-takers. It has a good price because of you buy all products separately, you will have to pay 30% more than you pay buying them with 2 month Extensive Cleansing Program! Vale's Perma Clean is the most well-liked supplementary product which was developed to make the process of detoxification better by nourishment which sustains the work of liver. Vale's Flax Boost includes Omega 3 and fiber, which contribute to intensive work of digestion organs and the process of removing wasteful chemicals becomes quicker. When these two features come together and it lasts for two months, it will accelerate the process of detoxification. If your drug screen is earlier and you will have not enough time to finish the course, then you should just take Vale's Solution 4x the strongest drink for the purpose of detoxification. Quick and trustworthy effect is guaranteed to you and this is just what you need! Vale's Fiber Boost (2 packs) is an additional product given to you to strengthen the effect and for use together with Vale's Solution 4x. The everlasting steady cleansing and quick detoxication process in case of necessity, you will not make mistake and will get the result you need!
Guidelines for those who is not going to pass the test within the 2 months period:
1. The beginning of your purification program is marked with take of Vale's Solution 4x, you should drink one bottle of it and also Vale's Fiber Boost in addition to it (one pack).
2. Next day start the course of additives, taking daily 4 capsules of Vale's Perma Clean and wash them down with water.
3. After you ran out of Vale's Perma Clean, consume the next bottle of Vale's Solution 4x together with Vale's Fiber Boost.
4. Go on with your purification procedure every day (3 capsules a day + Vale's Flax Boost)
Guidelines for those who will be tested until the cleansing course is finished.
1. Take 4 capsules of Vale's Perma Clean every day with water.
2. When you finish Vale's Perma Clean, go on with Vale's Flax Boost (3 capsules – each day)
3. Keep Vale's Solution 4x and Fiber Boost capsules to be taken on the day of the test. Vale's solution should be taken from one to two hours prior to the test together with Fiber Boost Capsules. For better result you should urinate more than twice before you are tested.
To be confident in the positive effect:
When you pass through the purification procedure during these two months keep away from all possible toxins. If you desire to be clean then you should not be subjected to their influence. Much water every day will wash away poisonous substances easily!