2 Step Opiate (MOR / OPI) Detox Program for persons under 200 LBS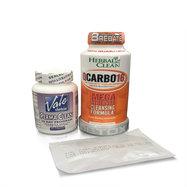 $50.99
The Two Stage Opiate Detoxification Kit includes a 16oz. bottle of QCarbo Easy Cleanser, one bottle of QPretox Master Concentrated Capsules (100ct), and one Morphine-Opiate test device.
Necessary guidelines to achieve good results!
The 2 stage Opiate Detoxification Kit consists of:
- QCarbo Easy Cleanser(16 oz)
- a bottle of QPretox Master Concentrated Capsules (100ct)
-  and a (Mor-Opi) test device.
Regulations:
Use this kit to be clean for the urine drug screen, begin the course 2-25 days previous to the test. Daily usage of QPretox and avoiding drugs are necessary things to be done. The QCarbo is a flash to be used on the test day.
- Use 2 capsules of Pretox two times a day.
-  Drink full bottle of QCarbo Easy Cleanser 2 hours before the test.
-  In twenty minutes fill the bottle with water and drink once again.
-  You can check the result forty minutes later and utilize test device to make sure that you are clean. Urinate more than twice to prove your results.
Do not consume much food prior to the use of this product.
Urinate frequently to make the cleansing procedure more effective.
Drink much water on days before the flush day.
Keep away from undesirable toxins for 2 days before the date you want to be clean. (The longer the period, the better result is likely to be!)
Take into account that good results last for about 5 hours only; you should organize time in view of that.
Precautions: Tell your doctor before using the product if pregnant or nursing.