Oklahoma drug laws
Marijuana Legalization In Oklahoma
On June 26, 2018, Oklahoma became the 30th US state to approve the legalization of medical marijuana, with 57% of voters in favor. Then, according to medical cannabis initiative State Question (SQ) 788, the State Department of Health promulgated medical use regulations for cannabis online within 30 days and began licensing by August 25.
A medical marijuana license is valid for two years and costs $100, or $20 for individuals on Medicaid, Medicare, or SoonerCare. An application for a medical marijuana license must be signed by an Oklahoma physician for applicants over 18 years old, and by two physicians and the applicant's parent or legal guardian for applicants under 18 years old.
As of September 1, 2020, the Medical Marijuana Authority had issued licenses to 342,263 patients and nearly 9,458 medical cannabis businesses. Licensed medical marijuana patients and caregivers can possess and grow a small amount of cannabis plants (up to three ounces of marijuana and up to six plants) and purchase cannabis from regulated businesses.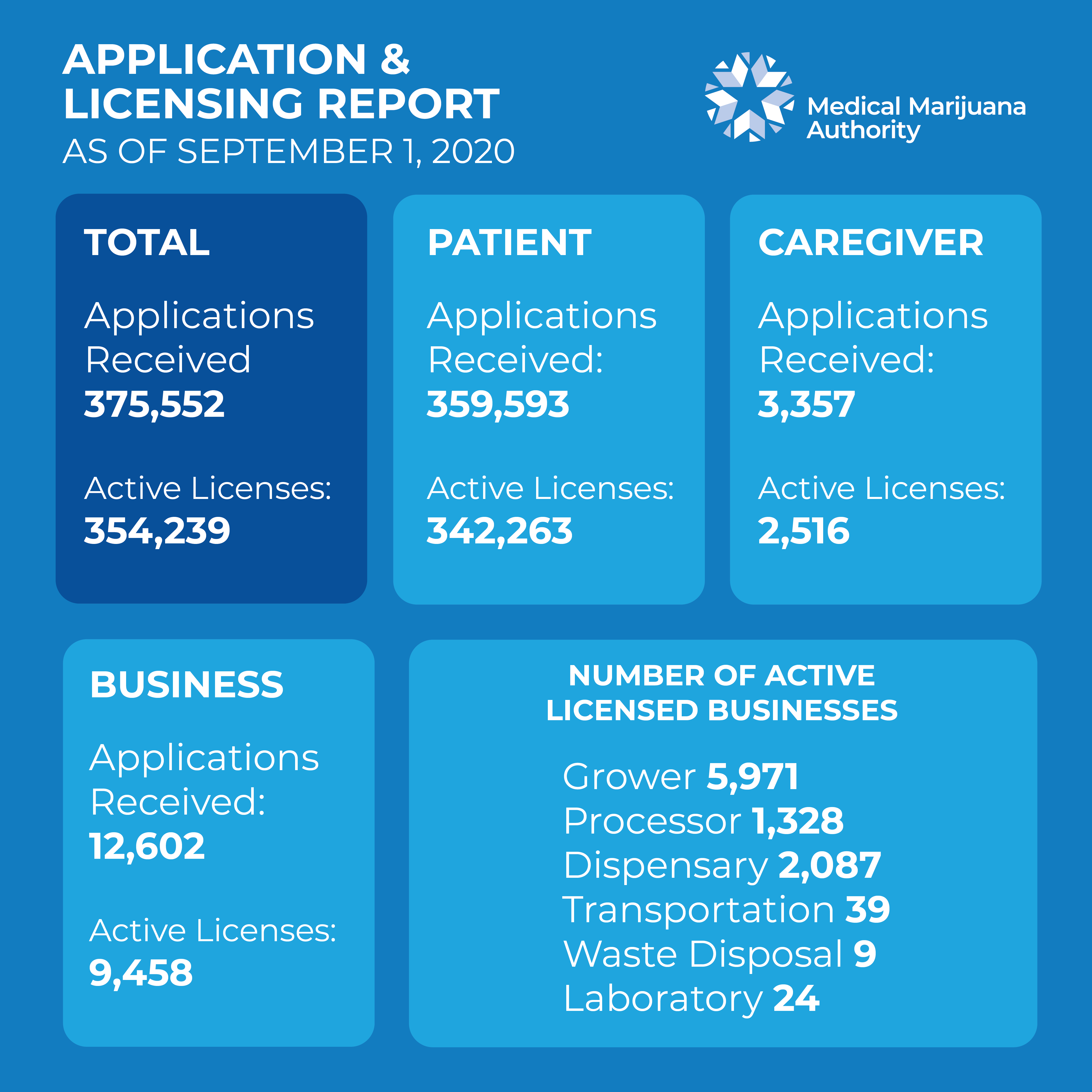 Possession of up to 1.5 ounces of marijuana by persons who can state a medical condition, but do not have a state-issued medical marijuana license, is a misdemeanor with a fine up to $400.
(See Oklahoma Statutes §63-2-420.)
Recreational Marijuana
Casual or recreational marijuana use is not legal and can result in serious consequences. Possession of marijuana is a misdemeanor punishable by confinement for not more than one year and by a fine not exceeding $1,000.
(See Oklahoma Statutes §63-2-402.)
Other Controlled Substances
The vast majority of controlled substances and other commonly known drugs are categorized as either Schedule I or II drugs. Drugs in these schedules have a high potential for abuse and no current medicinal use in Oklahoma and the United States, as they lack accepted 'safe for use' under any medical supervision. Use of heroin, opiates, cocaine, and methamphetamines carries a severe penalty. The first offense of possession of Schedule I or II drugs, except for marijuana, is considered as a felony with up to 5 years in prison and a fine of $5,000. For subsequent possessions and arrests, the charges are up to 10 years behind bars and $10,000 in fine.
(See Oklahoma Statutes §63-2-402.)
The History Of The Legalization Of Medicinal Marijuana
When the initial push to legalize medical marijuana in Oklahoma in 2016 elapsed due to lateness in the cut-off days for its authorization in the ballot papers by the Governor, Oklahoma residents' hopes shifted to November 6, 2018.
Some concerns were raised on the issue of racial enforcement of existing laws in Oklahoma, claiming that African Americans are 2.9 times more likely to be arrested compared to whites, while they both consume similar amounts of weed.
Before medical marijuana was legalized on June 26, 2018, it was legal for children with epilepsy and administered under a state-approved physician. On April 30, 2015, Gov. Mary Fallin signed a bill that allowed clinical trials of CBD (cannabidiol or cannabis oil) for persons under the age of 18 suffering from severe epilepsy. The CBD must not contain more than 0.3% THC and must be derived from only mature stalks or the seeds of the cannabis plant.
The law further states that once the minors become of age, administration of the CBD should stop. Rep. Jon Echols expressed much of his discontent with this law after hearing about a reduction in childhood seizures. He put for the opinion that desisting once the child becomes an adult could have negative consequences on the health of the individual. As a result, he introduced House Bill 2835 (HB 2835), which would facilitate adults' access to high-CBD cannabis oil and increase the eligibility of diseases to include Alzheimer's-type dementia disorders like Parkinson's disease.
This law used to limit the number of people who could benefit from the whole plant, such as people with cancer or intractable pain.
Currently, with the plethora of illnesses that medical marijuana can help with, medicinal marijuana is a great benefit and reduces the mortality rate caused by these illnesses.
Consumption Of CBD From Hemp Oil
Before the legalization of medical marijuana, many people in Oklahoma had lost hope of ever legally purchasing or using marijuana and had turned to hemp oil which contains CBD. While most laws were stringent on any form of cannabis, including the hemp plant, the oil derived from the mature stalks and seeds was not illegal. This is pretty much the closest they could get to marijuana in Oklahoma prior to the legalization efforts.
Cultivation And Dispensation Of Medical Cannabis
Those who want to cultivate and dispense medical marijuana should apply for a business license. The health department must approve every applicant for a medical marijuana business license that meets requirements, such as being 25 years old or older and an Oklahoma resident. Applicants must also pay a $2,500 fee. Individuals with non-violent felonies in the past two years or violent felonies in the past five do not qualify, nor do individuals who apply while they are incarcerated.
(See Oklahoma Statutes §63-427.14.)
Distribution and Trafficking Of Weed
Distribution of marijuana is a felony with incarceration that may lead to a lifetime behind bars. For charges of distribution of any amount less than 25 pounds, there may be up to a 5 year prison term with a fine up to $20,000.
Sale within 2,000 feet of schools, public housing, or public parks is considered a felony with double the penalty for both the incarceration period and the fine to be paid.
Sale to minors will lead to imprisonment for 2-10 years.
(See Oklahoma Statutes §63-2-401.)
Sales of between 25 and 1,000 pounds is called trafficking. Penalties include up to 20 years in prison and a fine between $25,000 and $100,000. With sales of more than 1,000 pounds of marijuana, which is called aggravated trafficking, the prison term is the same of up to 20 years, while the fine is $100,000 to $500,000.
(See Oklahoma Statutes §63-2-415.)
Drug Testing In Oklahoma
It is mandatory that every employer require a drug test as a condition for employment. Testing for "drugs and alcohol" doesn't rule out any drugs, which many have seen as a loophole during drug tests. Currently, employed workers are also subjected to periodic assessments. More scrutiny is frequently given to workers with tardiness and sequential absenteeism, as well as the workers with consistently negative performances.
Certain professionals are subjected to both periodic and impromptu testing. These include police or peace officers, who are allowed to carry firearms, those whose jobs affect public safety, those working in public hospitals and other health facilities, and those in correctional facilities.
Detoxification From Drugs
If expecting a job interview or a drug test, ascertain which type of drug test you will be undergoing. A urine test is the most commonly used method in Oklahoma, but hair and saliva tests are also possible, so you will need to be ready to pass these tests. Knowing the type of test will prepare you to find out whether there are any detoxification products available, and whether there are any legal issues behind buying, selling, or using them.
The best way to detox is by natural means. With proper exercise and a good diet, you will achieve your detox plan within 4 to 6 months.
If you are like most people reading this article to find a quick solution, don't worry. With a safe, natural detoxification product, you will easily achieve minimal THC levels in your system within 7 days. The detox products expedite the body's natural cleaning process to permanently cleanse the blood of any THC.
For those who don't have the luxury of even a day, there are detox products that can be used to temporarily "fool" the urinary tract and bladder to produce "clean" urine for an estimated window period of almost 6 hours.
All these products are legal to use throughout the whole state of Oklahoma. So no need to worry on your next interview!