Fiber Boost (Capsules)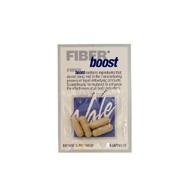 $2.99
Fiber Boost was invented to contribute to the efficiency of the body's cleansing procedure.
Blood's supply of oxygen to tissues influences the process of detoxification.
 Natural fiber in the product helps to expel THC from the body and for binding certain components of bile in the gastrointestinal tract.
Fiber Boost is a formula created for making the process of detoxification efficient. Fiber Boost has components which do not mix well enough if detoxification drink is not thick. It contains 600 milligrams of natural dietary fiber, which raises the efficiency of any other detox drink and get the effect you want.
Guidelines:
Take the whole pack of Vile's Fiber Boost capsules while you drink the detox drink you prefer or after it without delay.
It comprises Apple Pectin, Guar Gum, Irish Moss, Beet Root Fiber, Psyllium Seed, Flax Seed, Fennel Seed, Ginger Root.
Caution:
Please consult with your own physician or health care practitioner regarding this product if pregnant or nursing a baby.This product is not intended to diagnose, treat, cure or prevent any disease.