PreVale (Capsules)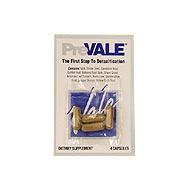 $2.99
The Pre-Vale formula was invented to make your body ready for the cleansing procedure.
The goal of Pre-Vale is to make you ready for the detoxification. The recommended start of Pre-Vale  is 12-18 hours before you begin your cleansing program. It consists of herbs, which are widely accepted for their purifying qualities. They easily clean the liver of the person from unwanted toxins.
If you want to succeed in detoxification, start take "the First Step" capsules. They contain natural components, which will be of great help to you.
-Juniper berries (improves the work of kidneys, bladder and urinary tract and cleans all these organs, making them toxic-free)
- Artichoke (motivates rejuvenilation and increase the level of bile secretion in the liver.
- Dandelion Root (for cleaning of blood and kidneys, having also diuretic effect, helps gallbladder too.)
- Milk thistle seed (for better liver functioning, for protein synthesis and hepapoprotection
Before you start your detoxification process and taking Vale Detoxification Drinks,  prepare your body for it and take the whole package of PreVale capsules (12-18 hours before you start), washing them down with water.  
Among the constituents are: Juniper berries, Artichoke Leaf, Dandelion Root, Milk Thistle, Golden Rod, Barberry Root Bark, Shave Grass, Buchu Leaf, Marshmallow Root, Yellow Dock Root.
Precaution: Do not take it without consulting a doctor if you are pregnant or nursing.  This product is not intended to diagnose, treat, cure or prevent any disease.