QCARBO 32 - Grape Flavor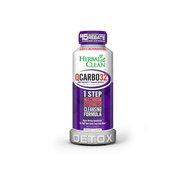 $49.99
It's time to stop worrying about a urine drug test by getting yourself a bottle of QCARBO32 Grape Flavor. Don't lose your job because of a failed drug test.
Don't Risk Losing Your Job by Failing a Urine Drug Test
The last thing you want to do is lose your job because of a failed urine drug test. This is a detriment to your career. Finding your next job will be a problem. That is why QCARBO32 Grape Flavor is your best friend. The drink is produced by, Herbal Clean, a reputable company in the detox industry.
QCARBO32 works by implementing a mix of Vitamin C, Thiamin (vitamin B1), Riboflavin (vitamin B2), Cyanocobalamin (vitamin B12), Creatine and Eliminex?™ Plus Blend. When combined, these ingredients create a cleansing powerhouse. After drinking QCARBO32, drug metabolites will completely clear from your system. The formulation gives you the quickest, safest detoxification possible. Once you pass your drug test by using this formula, you will thank your lucky stars!
The Eliminex?™ Plus Blend is a special mixture of Creatine Monohydrate, Guarana Seed Extract, Echinacea Purpurea Leaf Extract and Milk Thistle Extract. These are some of the most powerful cleansing herbs and vitamins available in the world. The blend quickly clears your urinary tract of any pollutants and gets you ready for your big test fast!
After consumption, the detoxification process is complete in only 1 hour! The effects of QCARBO32 last up to 7 hours. This gives you a 6-hour window to pass your urine drug test. Make sure to plan accordingly for this time frame. Considering most jobs give you a time frame for your test, the 6-hour window is more than adequate.
QCARBO32 has helped countless people just like you pass their urine drug tests. The proven effectiveness is what has lead to the popularity of QCARBO32 Grape Flavor. On top of that, the drink is easy on the palate. You will also feel safe knowing that the ingredients are all natural herbs and vitamins. A lot of other detox products use harsh chemicals that are no good for your body. That's the beauty of QCARBO32, it is a powerful cleanser yet gentle on the body.
For best results follow these instructions:
Vigorously shake the bottle
Consume the entire bottle
Pass urine at least 3 times during the first hour after consumption
Prepare yourself because QCARBO32 begins to work in 30 minutes
QCARBO32 works best when consumed on an empty stomach
QCARBO32 Grape Flavor was made to use on your test day! For best results, discontinue all chemical use 48 hours before your test. Don't worry if you do not have 48 hours, you can still use QCARBO32 on test day to pass your urine drug test. The formula was developed for people who are heavy users.
The best advice for you is to always have at least one bottle stocked in your cabinet. This way, you are always prepared for your urine drug test. It is stressful enough to have to take a urine drug test, why create extra stress by having to run around to find a detox drink? Then you have to hope to find a drink that actually works. Don't do that. Get a bottle of QCARBO32 and stay confident during the process.
QCARBO32 Grape Flavor Ingredients:
Vitamins: C, Thiamin, Riboflavin, B12, Creatine Monohydrate
Herb Blend: Firbersol-2, Dandelion Root Extract, Burdock Root Extract, Turmeric Root Extract, Rice Protein, Milk Thistle Seed Extract, Echinacea Purpurea Leaf Extract, Juniper Berry Extract, Psyllium Seed Husk, Licorice Root Extract, Uva Ursi Leaf Extract, Ligustrum Berry Extract, Cornsilk Extract, Apple Pectin, Alfalfa Leaf Extract, Papain, Bromelain, Triphala Fruit Extract, Guarana Seed Extract, Cayenne Pepper
Other Ingredients: Water, Fructose, Dextrose, Inulin, Glycerin, Sorbitol, Artificial Flavor, Citric Acid, Phosphoric Acid, Potassium Sorbate, Sodium Benzoate, Sucralose, F, C and F Red N40, F, D and C N1