QCARBO 32 - Tropical Flavor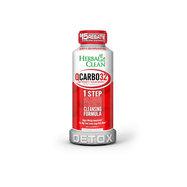 $49.99
QCARBO32 Tropical Flavor is a premium cleansing drink that will help you confidently pass your urine drug test. Get your bottle today before it's too late!
Is Your Drug Test Fast Approaching?
Don't worry because QCARBO32 Tropical Flavor will help you pass with flying colors. This premier quick flush product gets the job done every time. The drink is part of the Herbal Clean lineup, powered by a unique mix of Vitamin C, Thiamin (vitamin B1), Riboflavin (vitamin B2), Cyanocobalamin (vitamin B12), Creatine and Eliminex?™ Plus Blend. All these ingredients are specially formulated to give you the quickest cleanse of drug metabolites possible. It is your most adequate, safest cleansing solution! You won't need to drink extra water, although it is recommended to keep your body flushed. If you choose to only use the drink simply shake and drink, it's that easy!
Eliminex?™ Plus Blend is a proprietary blend of Creatine Monohydrate, Guarana Seed Extract, Echinacea Purpurea Leaf Extract and Milk Thistle Extract. All these wonderful vitamins and herbs assist the body to expel unwanted toxins. The special blend quickly cleanses your urinary tract and gets you ready to pass your urine drug test.
QCARBO32's advanced formula achieves full body toxin elimination in as little as 1 hour and is effective up to 7 hours. This product is highly recommended to those individuals who have little time before their drug test. Sometimes the boss gives us as little as one day to prepare for a drug test. That is when you need to get yourself QCARBO32. It is the fastest cleansing solution on the market today and has helped many people pass last minute urine drug tests. If you are feeling worried, you can feel safe when using QCARBO32. The herbs and vitamins will not harm your body like other chemical products on the market.
If you are dependent on your job and need to pass your drug test, don't skimp when it comes to cleansing yourself of all toxins before the big test.
In order to achieve a thorough cleanse follow these steps:
Thoroughly shake the bottle and drink entire contents
Pass urine at least 3 times during the first hour after drinking the entire contents
Be prepared because QCARBO32 begins to work in as little as 30 minutes
For best results drink on an empty stomach
QCARBO32 Tropical Flavor was developed for use on test day. It is best to stop all chemical use at least 48 hours before test day. If this is not possible, you can still use QCARBO32 on test day to pass your urine drug test. Use this drink with the utmost confidence no matter how little time you have. Your best bet is to buy a bottle to have on hand. This way when you are surprised with a drug test, you will feel relief knowing you already have a bottle. The last thing you want to do is run to the store and find out that QCARBO32 is out of stock. Yes, this does happen because of the popularity of the drink.
QCARBO32 Tropical Flavor Ingredients:
Vitamins: C, Thiamin, Riboflavin, B12, Creatine Monohydrate
Herb Blend: Firbersol-2, Dandelion Root Extract, Burdock Root Extract, Turmeric Root Extract, Rice Protein, Milk Thistle Seed Extract, Echinacea Purpurea Leaf Extract, Juniper Berry Extract, Psyllium Seed Husk, Licorice Root Extract, Uva Ursi Leaf Extract, Ligustrum Berry Extract, Cornsilk Extract, Apple Pectin, Alfalfa Leaf Extract, Papain, Bromelain, Triphala Fruit Extract, Guarana Seed Extract, Cayenne Pepper
Other Ingredients: Water, Fructose, Dextrose, Inulin, Glycerin, Sorbitol, Artificial Flavor, Citric Acid, Phosphoric Acid, Potassium Sorbate, Sodium Benzoate, Sucralose, F, C and F Red N40, F, D and C N1