QCARBO Fast Cleansing Formula. Strawberry-Mango Flavor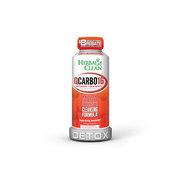 $32.99
QCarbo Easy Cleanser's fast acting formula will flush toxins and drug metabolites from your bladder allowing you to provide a clean urine sample on an hours notice.
If you want to pass the urine drug test without problems, then you should know that QCarbo Easy Cleanser is the most trustworthy product. It works quickly and has a very formula, which will drive away all toxins from your body! Your urine will be clean and there will be no traces of metabolites in your bladder. Its work is great on people with low weight and people who did not take drugs on a regular basis. Reinforced with combination of 20 vitamins, minerals and other useful supplements, derived from botanical sources, QCarbo Easy Cleanser has an effect in an hour already! The manufacturer of the product is ready to pay your money back if it is not effective and who will promise such a thing if not sure in the result? So the result is guaranteed.
The product must be consumed on a day of the urine screen, just 1-2 hours before it. You should drink QCarbo, then fill the bottle again with water, drink it completely. You will get the result at once and in an hour you may submit your urine sample. Apart from being a reliable product, QCarbo is delicious too and you can choose one of six types of drinks to your taste: what do you prefer? Apple or grape? Cranberry or Orange? Or probably Tropical flavor or Strawberry Mango will taste better?
1) Stay away from all toxic substances for 2 days before the test. Try to avoid unnecessary drugs as long as possible before the test day.
2) Being hungry 1 or 2 hours prior to the test, consume the whole bottle of QCarbo.
3) 20 minutes later pour water into the bottle of QCarbo, which you emptied 20 minutes ago and drink the bottle again.
4) Urinate as often as possible and get ready to make your drug test during next several hours. It would be better to do it within two hours after you drank QCarbo.
For effective use of the product:
Before you make your choice, confirm first that the product suits you well. QCarbo Easy Cleaner was created for people who do not weigh much and do not consume drugs frequently. If it not so, your weight is more than 180 pounds, then you should find more proper and more effective detoxification remedy.  You may choose a complete Detox Kit or order QCarboPlus in addition to the Super Boost Capsules. Do not forget that one should urinate much to be successful during the cleansing process. You must urinate not less than twice before the test