QCARBO PLUS WITH BOOSTER. Cranberry-Raspberry flavor.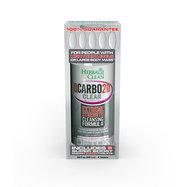 $39.99
The most reliable way to pass a urine drug screen is to use QCarbo Plus with Super Boost Tablets.
If your desire is to pass the urine drug test without problems, then you should know that QCarbo Plus with Sooper Boost Tablets is the most trustworthy product you can imagine. Its excellent quick work will clarify your body of all toxins!,   Nobody will be able to find the traces of metabolites in your bladder. This product was created mainly for those people who weigh much  and those who  have a big experience of taking drugs. It contains 20 vitamins and supplements of different kinds, taken from nature, QCarbo Plus with Sooper Boost Tablets  is effective after one hour of work in your body! The manufacturer is ready to return money in case you do not get what you want
Taken on a day of the urine screen, just 1-2 hours before it, with 4 Super Boost Tabs with water, it will help you to be clean in one hour already. You should drink QCarbo, then fill the bottle again with water, drink it completely. You may submit your urine sample in an hour. It is not only a reliable product, QCarbo is delicious also and you can choose choose the preferable falvor out of 6: it may be apple, grape, cranberry, orange, tropical flavor or Strawberry Mango.
1) Do not take toxins for 2 days before the test. The longer you avoid drugs – the better.
2) Being hungry 1 or 2 hours prior to the test, consume 20 ounces of water.
3) 20 minutes drink one bottle of QCarboPlus with 4 Super Boost Capsules
4) 20 minutes later drink 20 ounces of water.
5) Urinate as often as possible and get ready to make your drug test during next several hours. Two hours after you consumed QCarbo, you can have the best result.
For efficiency of the product:
 The drug abuse is undesirable for as long as you are able to. It is necessary to keep away for 2 days from the toxins before the flush.  Do not forget that one should urinate much to be successful during the cleansing process. You must urinate not less than twice before the test. If you do not, then there may be urine with toxins in your bladder and this will spoil everything.