Stinger 7 Day Total Detox Drink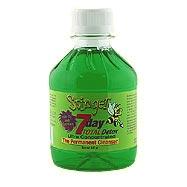 $45.99
Stinger 7 Day Total Detox Drink has been developed for all those who usually avoid capsules, tablets but need a detox procedure. Flush toxins from your body taking tablespoons of detox drink.
The Stinger 7 Day Total Detox is a product made for customers who need to remove undesirable toxic elements from the body such as tobacco, cocaine, alcohol, THC, methamphetamines and etc. It can be hard to avoid accumulation of some toxins so if you do not want to risk remove them effectively with this product that does not resemble medical preparation. The product suits the customers who dislike pills and medical treatments perfectly. It is not that stressful for a person to take a course of this detox product taking only several tablespoons on a daily basis.
The Stinger 7 Day Total Detox Drink is a unique product that activates natural processes of your organism to make you clean in the course of one week.
Customers with a high level of toxic substances in the body and weight that is more than 230 pounds should take double dose for better results.
The person has to buy two bottles in this case. The Stinger 7 Day Total Detox contains a combination of vitamins and sea water minerals that contribute to cleansing of your body. Get rid of poisonous toxins with help of this effective product.
How to use it
Do not take toxins for 2 days prior to the cleansing course with The Stinger 7 Day Total Detox.
The daily dose includes intake of 1 tablespoon 2 times a day prior to meals: in the morning and evening. Combine the water with juice if you like.
Do not confuse the dose. You should take a tablespoon, not the teaspoon. This is important! Otherwise, you will take in wrong amount of liquid. The amount of remedy is calculated for you so that you could take the last dose and finish the bottle. It should be so if you make everything properly.
TAKE INTO CONSIDERATION THAT THIS PRODUCT DOES NOT MAKE YOU CLEAN. IT PROVIDES YOU JUST TEMPORARY DETOXIFICATION RESULTS.
Important! The product is not effective for persons who take some OTC medications such as Motrin, Tylenol and others medications for colds. Try to keep away from prescription medications for 2 days before you are going to be cleaned with help of The Stinger 7 Day Total Detox Drink.