Super Quick Caps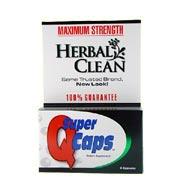 $25.99
The Super Quick Caps joined power of Protein, Vitamin B and Creatine along with potent blend of natural herbs (Alfalfa leaf, Slippery Elm bark, Uva Ursi leaf) flush the toxins of you body through the urinary tract.
The Super Quick Caps empowered by Protein, Vitamine B and Creatinine in addition to the combination of the natural herbs, such as Alfalfa leaf, Slippery Elm bark, Uva Ursi leaf wash away from you body through the urination system. It is necessary to use the Super Quick Caps just on the day when you are going to be clean for the drug test, because the capsules start working in 45 minutes after they were taken and they maintain the permitted level of pollutants (undesirable substances of different kinds: from different drugs to environmental chemical poisonous elements, nicotine and alcohol as well) Compulsory frequent urination reduces the amount of toxins considerably.
- starts working in 45 minutes
- is effect remains for 5 hours
- the proposal of free item
- absolute contentment with the product
-guarantee of the return of money
Attention: the product is effective for a short time only – schedule your time in accordance with it.
If you want to be sure in the effect of the product than it is better to take PreTox Master Concentrated Capsules before you begin the course of cleansing with Super Quick Caps.
Tips for use:
1) First you should take the whole package (4 capsules ) and wash them down with 24 ounces of water
2) After 15 minutes' pause drink 24 oz of water.
 Necessary guidelines:
-Stay away from toxins of any kind prior to the use of Super Quick Caps.
- Big amounts of food should be avoided before the cleaning.
- After you used the product already, you should not drink a lot.
- Much water can be consumed if you want it before the Super Quick Caps intake.
The product consists of the following constituents: Soy protein, Riboflavin, Pottasium, Creatine, Alfalfa leaf, Slippery Elm bark and Uva Ursi powder.
Word of warning! The product should not be consumed if the woman is pregnant or feeds baby with breast, besides it does not suit people with kidney or gallbladder problems.
Start the Premium Detox 7 Day Comprehensive Cleansing Program and get rid of harmful way of life with damaging habits of drug consuming. Start life with clean body and become healthier and happier with this purity!