Ultra Cleanse Hair Cleansing Shampoo & Conditioner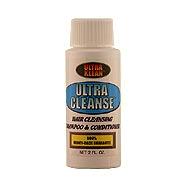 $29.99
Ultra Cleanse Hair Cleansing Shampoo & Conditioner has been specially formulated to remove toxins from the hair shaft.
Ultra Cleanse Hair Cleansing Shampoo and Conditioner was made in particular to put away all toxic elements from your hair. Now you can feel easy with Ultra Cleanse Hair Cleansing Shampoo and Conditioner. It has  a guarantee of the manufacturer like all other things produced by Ultra Klean.
How to use the product:
1) Soak your hair through
2) Put 1 oz. of shampoo on the hair (this is approximately half of the bottle)
3) Rub it into the scalp and hair, making massaging movements.
4) Wash it away.
 5) Return to the step 1 and repeat the process
6) Dry your hair as you do as a rule and make its usual style.
7) Now you are ready for the test!
It consists of the following substances: Deionized water, Sodium Laureth Sulfate, Cocamide DEA, Cocamidopropyl Betaine, Aloe Vera Extract, Comfrey Extract, Geranium Extract, Sodium PCA, Polyquaternium 10, Panthenol, Glycerin, Citric Acid, Methylparaben, Tetrasodium EDTA, Sodium Thiosulfate, Phenoxyethanol, Fragrance, Sodium Chloride.