Ultra Mask One Hour Cleansing Formula Cherry Red flavor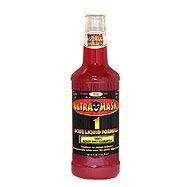 $33.99
Ultra Mask One Hour Cleansing Formula will clarify you for a urine drug screen
Ultra Mask One Hour Cleansing Formula features Cherry Red flavor. Pleasant flavor of the product will eliminate the stress while you pass the urine drug screen. It works fast and efficiently removing poisonous elements from your body and making you clean so that you can meet the demands of the test.
The task of the product is to remove the drug metabolites discovered in the bladder and affect the drug screen. If you want to get a clean urine sample this is not hard with Ultra Mask One Hour Cleansing Formula. The results can be received in one hour. Additionally, Ultra Mask includes the vitamins to make the work of product more effective. It also contains natural herbal ingredients. The producers promise money back guarantee in case you are not satisfied with the results.

How to use the product
Try to keep away from undesirable toxins for a couple of days before the appointed test. If you have more time for preparation to the test, then you can achieve higher level of purity.
Do not consume the Ultra Mask One Hour Cleansing Formula without shaking the bottle first.
20 minutes later fill water to the bottle and drink it.
You should go to the bathroom. Frequent urination will make you ready for the test. The peak efficiency is achieved 2 hours after you consumed Ultra Mask.

How to make the remedy more effective
You should not take medications when you get ready to pass the test. Even the products that work rapidly require sufficient time to make you clean for the drug test. The period of preparation and keeping clean requires 2 days (or 3 for better results). If you use Ultra Mask you need to urinate at least three time to remove toxins from your bladder and make the flush work well. If you do everything properly it will help you to pass the test successfully – just remove the untreated urine from bladder.