Ultra Mask One Hour Cleansing Formula Wild Berry Blast flavor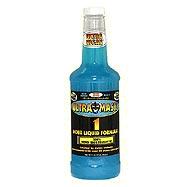 $33.99
Apply Ultra Mask One Hour Cleansing Formula to be pure! Choose Wild Berry Blast flavor product.
Ultra Mask One Hour Cleansing Formula features Wild Berry Blast flavor. It will help you to pass the urine screen without worrying that accumulation of toxins can bring to negative consequences and even affect your future career and wellbeing. The customers highly evaluate high efficacy of the product within the shortest timeframe. Can you imagine, for instance, that toxins can be cleaned with one hour? It seems to be impossible but not for Ultra Mask One Hour Cleansing Formula.
Pass the urine screen with guarantee. Apply fast acting formula that removes metabolites from bladder. It lets the one get clean result quickly. Besides, the developers added vitamins and herbal constituents to enhance the performance of the product. The manufacturer asserts that you will feel the result in 1 hour already when the product starts working in your body. You can rely on this product that was announced as the one that gives 500% satisfaction guarantee. You may not fear to try it. Money back guarantee removes the risk just the same way the product removes toxins from your body.
How to use the product:
Keep away from undesirable products that can affect your testing result. All toxins should be removed from menu. The longer you keep this schedule the better result you are going to get during the drug test.
20 minutes later pour water to the bottle and take it in.
Go to the toilet to urinate several times in order to release the toxins. Then make the test in several hours. The maximum efficiency of Ultra Mask can be achieved in 2 hours after you take the product.
To improve the results:
You need to avoid toxins of any kind including, tobacco smoke and drug use when you get ready for the test. Usually cleansers work well if you abstain from unwanted substances for 2-3 days. It provides solid result in this case. Use Ultra Mask, then urinate several times to flush effectively. There is untreated urine in your bladder and your task is to get rid of it to make the test clean.