Ultra Wash Toxin-cleansing mouthwash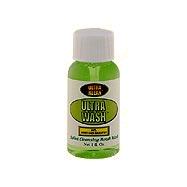 $29.99
Prepare yourself and meet the challenge of saliva test - no traces of unwanted residues in your spit.
Get ready to pass the Drug Test with Ultra Wash Toxin-cleansing mouthwash. Use it and there will be no traces of toxins in your mouth for an hour!  It removes residues of marijuana/THC/, nicotine and alcohol in saliva. It is convenient to have it with you as it is small and you can carry it in the pocket. It is very easy to use it: shake the bottle, swish it in the mouth and spit it out!
A very good choice to pass the saliva testing!
The result is guaranteed by manufacturer, who is ready to return 500% if you are not satisfied!
How to use the product:
1. Shake it well before you use it.
2. Take into the mouth  0,5 oz. of mouthwash and hold for 2-3 minutes. Then spit it out, avoid swallowing the mouthwash!
3. Refill your mouth with the rest part of mouthwash again and hold for 2 minutes. It should happen 10 minutes before the deadline.
To be sure in the good result:
- use the product on empty stomach
- do not smoke and stay away from tobacco chewing
- all undesirable toxins must be ignored for a day or two before the test.
The product is made of Water, Glycerin, Magnesium Sulfate, Potassium Chloride, Sodium Chloride, Witch Hazel, Aloe Vera, Boron Citrate, Lithium Sulfate, Peppermint, Sodium Benzoate, Potassium Sorbate.