Vales +2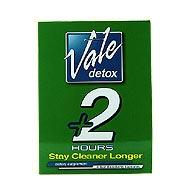 $3.99
Apply a detox cleanser to be able to provide a clean sample within 5 hours.
Usually detox cleansers work for 2 hours only. Besides, the clients should follow a number of rules to prolong this period such as keeping away from toxins for 2-3 days to provide the result.
How to use the product:
You should apply Vales +2 after you took a detox flush drink.
It is necessary to consume 16 ounces of water when you take in four capsules of the product.
Then perform the same thing again in a couple of hours. Do it every 2 hours for longer detox program.
Constituents:
The products includes the vitamins B2, B12, Apple Pectin, Flax Seed, Creatine Monohydrate, Beet Root Fiber, Buchu Extract, Psyllium Seed, Guar Gum, Turkey Rhubarb.

Be careful!
Keep away from smoking, drinking alcohol and caffeine. They can impair the longevity of time window required for the drug test.
It is not recommended to consume food when you are going to take the test. If it is necessary to consume light food, you should eat just a little. Meat and dairy are undesirable products that should be entirely excluded from the menu at this time.
It is forbidden to participate in a physical activity until you pass the test.